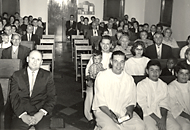 The original parent Church (rooted in the Italian Pentecostal Movement) was started in Chicago, IL in 1907, as part of the larger outpouring of the Holy Spirit at the turn of the century. The church was known as the Italian Christian Church; later dropping the word Italian and officially organizing The Christian Church of North America in 1948. From this, missionaries and word spread to California, Niagara Falls, NY; Buffalo, NY; Jamestown, NY; Syracuse, NY; Boston, MA; Tennessee; Mississippi; Arkansas; Erie, PA; San Jose, CA; Ellwood City, PA; across the Canadian border; overseas and ultimately here to Washington, PA.
Word originally spread into Washington, PA in 1923 when laymembers of the Christian Church of North America in New Brighton, visited friends in Washington and interested them in the
Gospel, and in forming the congregation here. Then, Cottage Meetings were held in the home of Louis Arena by the Domenic Capo family and in the home of Frank Julian and Patsy Manfredi.
In January 1925, a room on Weirich Avenue, owned by Anthony Comfort was secured and held regular services. Sunday school classes were conducted by Frank Marus, Mary Bonus and Rose Mazzie. The congregation grew and soon preparations were made for a church building.
At this time there were 19 families on the church roster. One of the members, Salvatore Marasco, donated the piece of land on West Wylie Avenue. Shortly after a frame building with a seating capacity of 125 was erected and dedicated on September 10, 1926. The slogan was taken from Phil 3:14.